Crunchyroll shouted present during their panel at the event The Mole Fest, ad new dubbed titles that will be part of the "Toonami powered by Crunchyroll" block as well as the arrival of "Dubbing Thursdays" to the platform beginning in April. The "Toonami powered by Crunchyroll" block on Cartoon Network, the number one children's brand in Latin America, will add Keep Your Hands Off Eizouken! and Laid Back Camp seasons 1 and 2 in April.
The series will be broadcast with new exclusive dubbings in Latin American Spanish and Brazilian Portuguese and They will be added to the Crunchyroll platform after they air on Toonami.
In the same way, Crunchyroll is also happy to share with fans that Dubbing Thursdaywhich originated in Funimation Latin America, they will arrive on your platform monthly starting in April.
Some of the April premieres on Jueves de Dublaje include Sword Art Online Alicization, Sword Art Online Alicization War of the Underworld, The Duke of Death and His Maidand The Defective. Here are more details about the premieres of the "Toonami powered by Crunchyroll" block and Dubbing Thursdays:
Toonami
Keep Your Hands Off Eizouken!
Midori Asakusa is a high school freshman who loves anime. Although she spends her days drawing all the ideas she has, she still hasn't taken the first step to create one of her beloved anime, as she knows it's an impossible goal if she's alone. The first to discover Asakusa's talent is Sayaka Kanamori, a girl with aspirations to be a producer. It doesn't take long to find out A classmate of hers, the charismatic model Tsubame Mizusaki, actually has the soul of a cheerleader, so together they create a cheerleading club.
Latin American cast
Montserrat Mendoza What Midori Asakusa.
Kassandra Acevedo What Sayaka Kanamori.
Melissa Gideon What Tsubame Mizusaki.
All of them under the direction of the master Oscar Garibay.
Laid-Back Camp (Season 1 & 2)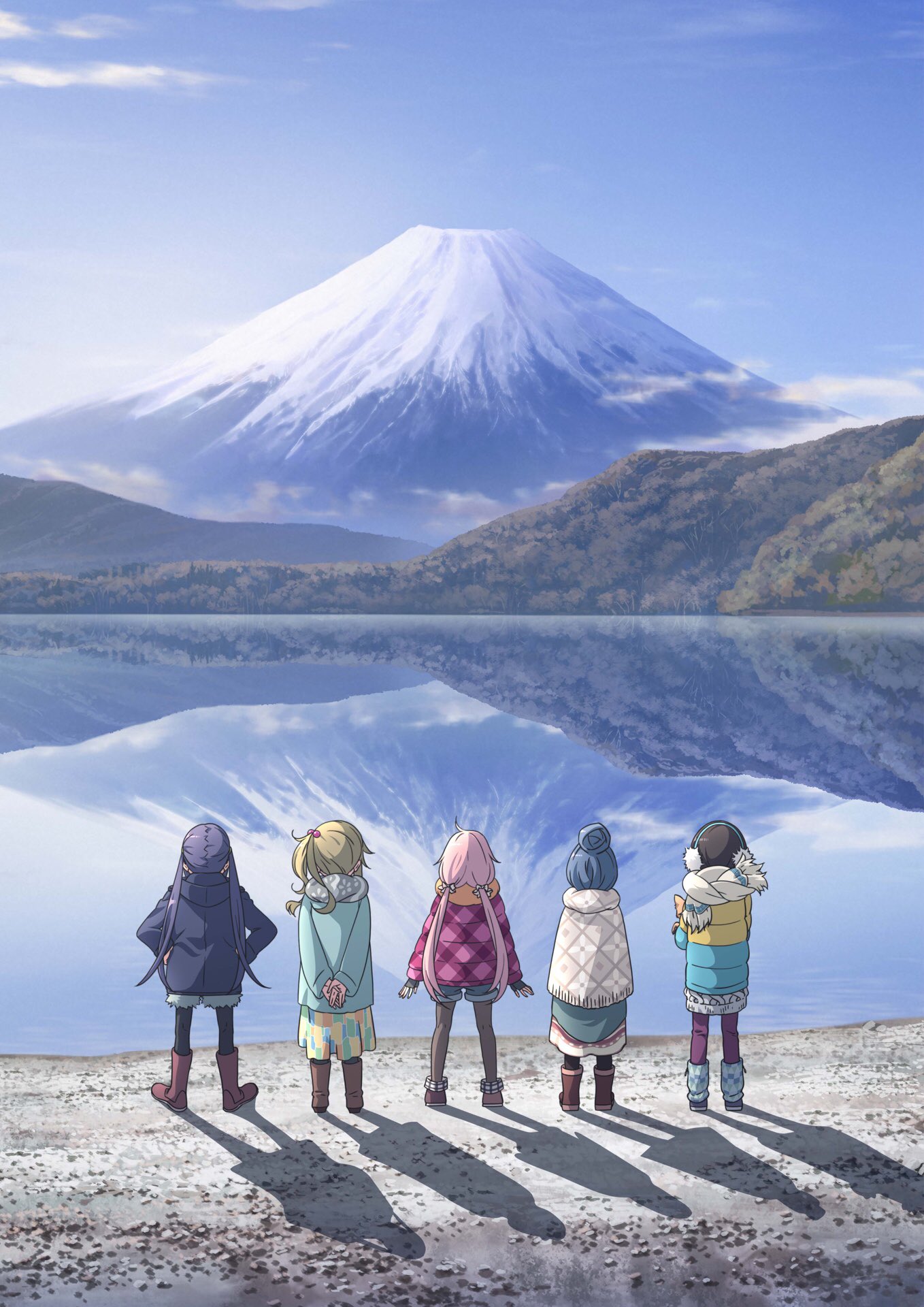 Nadeshiko is a high school student who has moved from Shizuoka to Yamanashi and decides to go see the famous Mount Fuji that appears on thousand yen bills. Although she manages to bike to Motosu, she is forced to turn back due to her bad weather. Having been unable to see her target with her own eyes, she ends up fainting. When she wakes up it is already night and she is in a place that she does not recognize and she does not know how to get back home. Luckily Nadeshiko meets Rin, a girl who is camping alone and who saves her from her.
Latin American cast
Ximena Fragoso What Rin Shima.
Joselyn Robles What Nadeshiko Kagamihara.
Montserrat Aguilar What Aoi Inuyama.
Analiz Sanchez What Chiaki Ogaki,
With the stories of Milton Woltz.
All of them under the direction of the master Roberto Molina.
Sword Art Online Alicization
A new world, unknown memories and a name that cannot be forgotten. With no recollection of logging in, Kirito finds himself in a whole new world with mysterious memories of a boy named Eugeo and a blonde girl, Alice. Her name seems important, unforgettable. But why? As he wanders the world looking for a way to unplug, will he stumble upon something even more important than coming home?
Latin American cast
Louis Leonard Suarez What Kirito.
Elliot Leguizamo What Eugeo.
Alicia Barragan What Alice.
Leyla Rangel What Cardinal.
Alexandra Delint What Asuna.
Dubbing will come next April, the 21st.
The Duke of Death and His Maid
Due to a curse he received as a child, everything the duke touches withers and dies. This makes his flirtatious maid's behavior all the more shocking. Will the duke and his companions be able to break the curse, or will he be doomed to a life where love is always out of his reach?
Latin American cast
Angel Rodriguez as Duke.

Nycolle Gonzalez as Alice.

Oscar Bonfiglio as Rob.

Danna Alcala as Viola.

Wendy Malvarez as Cuff.

Pascual Meza as Zain.
Dubbing will come next 28th of April.
The Defective
A futuristic society is governed by the Eden System, a mind-linking technological aid that eliminates pain and worry. However, those unable to integrate into their system are expelled to the Eighth Galaxy. League General Lin Jingheng and young Lu Bixing couldn't be more different, but they are united by a common cause: leading the "defectives" in the fight against this unjust world.
Latin American cast (character/actor)
Gaul Balcazar What Lin Jinheng.
Gabo Ramos What Lu Bixing.
Carlo Vazquez What ZhanLu.
Mariana Ortiz What Penny.
Cynthia Chong What Huang Jinshu.
This dub will come next 28th of April.
RE MAIN
After winning a national water polo title in his junior year of elementary school, a car accident leaves Minato Kiyomizu in a coma. He wakes up almost a year later, but without the memories of his last school year. Already in high school and with a new start, he leaves the sport, but a promise forces him to return to it. However, his new team is weak, and that's just a sign of trouble to come.
voice cast (character / actor)
Victor Ruiz What Minato Kiyomizu.
Diego Becerril What Eitaro Oka.
Daniel Lacy What Jō Jōjima.
Denise Leguizamo What Chinu Kawakubo.
Gerry Ortega What Shūgo Amihama.
Charles Monroy What Takekazu Ejiri.
Ditter Ruiz What Yutaka Babayaro Inomata.
Brandon Santin What Yoshiharu Ushimado.
Hector Mena What Keita Kakihana.
Raphael Escalante What Riku Momosaki.
Roman Abreo What Koki Toguchi.
Ismael Verastegui What Akimitsu Bizen.
Javier Sánchez What TOKeshi Toyama.
Ado Darkian What Akihisa Fukui.
oscar lopez What Norimichi Ishikawa.
This dub will come next May 5th.
Life Lessons with Uramichi Oniisan
Being an adult is not easy at all and that is a heavy reality that Uramichi Omota must bear. At 31 years old, this cheerful exercise host of a children's show sometimes does not know how to contain his sarcastic comments. His companions, a couple of pets and a musical duo, also show how hard adulthood is, but little by little they learn to handle it.
Latin American cast (character/actor)
Javier Olguin What Uramichi.
Joseph Louis Molina What Usahara.
Jesus Mondragon What kumatani.
mario heras What Iketeru.
Analiz Sanchez What utane.
Magic Record: Puella Magi Madoka Magica Side Story (1 and 2)
Few know the truth: the world is safe thanks to the Magical Girls who are forced to kill the Witches. Even though these girls are risking their lives for a wish, rumors say that they can be saved in the city of Kamihama. Iroha Tamaki heads there in search of answers. He can't remember the wish he made of Kyubey, but a shadowy figure haunts his dreams.
Latin American cast (character/actor)
Valeria Mejia What Iroha Tamaki.
elizabeth infant What kuroe.
Maria Garcia What Yachiyo Nanami.
Montserrat Aguilar What kubey.
Regina Tiscarino What Kaede.
The first season will come next May 12 in the second the next may 19.
Kageki Shōjo!!
The curtain rises on the Kouka School of Music and Performing Arts. The spotlights are on Sarasa Watanabe, a 5-foot-9 student with stars in her eyes who dreams of playing the male lead. She strikes up an unexpected friendship with her new roommate, a former youth group singer who now wants to join the Kouka Theater. Together, they will fight for the role of their lives.
Dubbing will come next May 26 and soon the cast of voices will be confirmed.
kemono jihen
Special Detective Kohachi Inugami is tasked with investigating a macabre phenomenon involving animal carcasses found in a remote village. With the help of a very peculiar boy, he will discover that evil paranormal forces are involved in the case and, little by little, he will reveal the truth of the deaths and of the boy, whose humanity he begins to doubt.
This dub will come next June 2nd and soon the cast of voices will be confirmed.
blue reflection ray
The optimistic Hiori cannot turn away those in need. Clumsy Ruka can't make friends. But they have one thing in common: they are magical girls, Reflectors! This couple will use powers to help resolve emotional disputes and protect the Fragments of people's hearts.
This dub will come next June 16 and the cast will be confirmed soon.
TSUKIMICHI -Moonlit Fantasy
Makoto Misumi was an ordinary teenager until he was summoned to be the "hero" of another world… But the Goddess of this new world found him too ugly, stripped him of his role as a hero and banished him to the farthest reaches of the world. away from the place. In this desolate land, he encounters dragons, spiders, orcs, dwarves, and beings from many other non-human races, but he manages to fend off these threats with the use of magic and combat techniques. Will Makoto be able to survive in this new world full of dangers? Thus begins this fantasy about a boy abandoned by the gods and humanity, who tries to start a new life in another world!
This dub will come next June 23 and the cast will be confirmed soon.
takt op.Destiny
Music is the light that illuminates people's hearts, and one day, that light was taken from the world without warning. The world changed completely the night that black meteorite fell. Horrendous monsters that would become known as D2 emerged from the meteorite and devastated everything and everyone in their path. The music attracted the D2, so soon after, the music itself became something taboo. However, those who faced those monsters appeared: the Musiccats.
This dub will come next June 30th and the cast will be confirmed soon.
Source: Press Release