Crunchyroll has surprised most anime fans with some highly anticipated news for quite some time now. And it is that during the interview with the leading cast in Latin Spanish of KonoSuba, the coordinators of the orange platform in Latin America, Ryujin & Dulce, announced live and direct as exclusive news that the film will soon be released «Konosuba: God's blessing on this beautiful world! –The Legend of Crimson» with the much-requested dubbing in Latin Spanish.
*Minute: 52:42 (Announcement of the dubbing of the film)
A piece of news that will delight all fans in America of the very charismatic isekai created by Natsume Akatsuki that they requested with different campaigns on social networks since the premiere with Latin Spanish dubbing of the 2 anime ovas in 2019 on the Crunchyroll platform (Bless this marvelous choker! & Bless these wonderful works of art!).
As the icing on the cake of this news, it is also more than confirmed thanks to certain statements in the same direct, that the same leading cast of the Latin dubbing of the series will be resuming their respective characters. So if we will have the participation of:
Javier Olguin What

Kazuma

Satō

nycolle gonzalez What Aqua
Wendy Malvarez What

Megumin

Mireya Mendoza What darkness
Jessica Angeles What Wiz
lark hidalgo What yunyun
On January 13, 2016, the light novel Konosuba! It would premiere its anime adaptation that consisted of 2 seasons and a movie. The animation studio Studio Deen was in charge of producing the anime under the direction of Takaomi Kanasaki, and it is available legally through the Crunchyroll platform, who made a Latin Spanish dubbing for the series.
It should be noted that on May 28 of this year, the anime Konosuba! announced the production of its third season, which will be produced by the Drive animation studio. Along with its third season, the production of an anime starring the character Megumin was also announced, which will be an animated adaptation of the light novel Kono Subarashii Sekai ni Bakuen wo! and will be released in the course of 2023.
Synopsis of Konosuba: God's Blessing on this Wonderful World! Legend of Crimson:
When Yunyun receives a seemingly serious letter about a possible disaster looming in her hometown, she immediately informs Kazuma Satou and the rest of her group. After a series of crazy misunderstandings, it turns out to be a mere prank by his fellow demon who wants to be an author. Even so, Megumin begins to worry about her family and leaves for the Crimson Demons village with the gang. There, Kazuma and the others decide to go sightseeing around the wonders of Megumin's birthplace. However, they soon realize that the absurd threat they received could have been more than just a joke.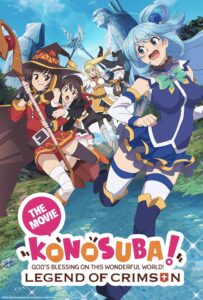 Font: crunchyroll