Wait, January is almost over. Shall we continue with the 2021 counts? Well, notice that yes my guys, since our favorite orange anime streaming platform Crunchyrollhas just published in a very peculiar way his count of the most viewed in this year that has just passed.
Uncle Crunchy thought it was very goofy. give us a test and ask ourselves What, according to our opinions, was the most viewed of last year?in different categories and with multiple options.
As here we are not any geeks and we always think we are rightwe did the test and… sadly we got 2 out of 7 (Apparently we don't know as much about this as we think).
But if you don't want to look like a fool, like a server, in the test or if you want to save it and go directly to what was seen the most, here are the results by category.
Attack On Titan Final Season
Editor's Note: Did you really expect another result?
Synopsis
Many years ago, humanity was on the verge of extinction with the appearance of giant creatures that devoured all people. Fleeing, humanity managed to survive in a fortified city with high walls that has become the last stronghold of civilization against the Titans who roam the world. Now that peace is about to be interrupted by a chain of events that will lead to the unveiling of what the Titans are and how they came to be.
DON'T TOY WITH ME, MISS NAGATORO
Editor's note: And that the dubbing had not yet come out.
Synopsis
"A girl younger than me made me cry!"
One day, a second-year boy is in the school library and ends up being targeted by an extremely sadistic first-year girl. The girl who torments him, annoys him and at the same time fascinates him is called Nagatoro. She is very annoying, but she is adorable. She is unbearable, but you want her by your side. This is a story about a very sadistic and temperamental girl who will end up awakening something inside you.
That Time I Got Reincarnated as a Slime – Season Two
Synopsis
Satoru Mikami is a 37-year-old man who has a job he doesn't like, has no way out, and isn't happy with the life he leads, but when he dies at the hands of a thief and thinks it's the end of him, he wakes up discovering that he has been reincarnated in a world of magic and sword… but as a slime! Now he will have to get used to his new life, but luckily he will have two unique abilities to help him survive: one that gives him a great understanding of everything around him, and another that allows him to copy the abilities of his opponents.
Dr Stone: Stone Wars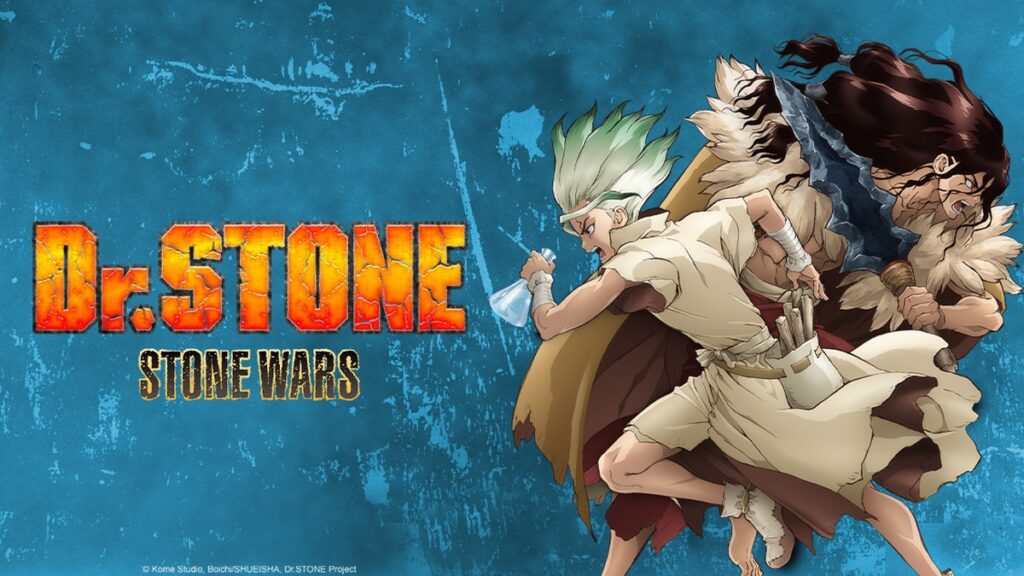 Editor's note: Science bitch!
Synopsis
Senku is an extremely intelligent young man with a gift for science and an acid personality, and his best friend is Taiju, who is a very nice person but more adept at using his muscles than thinking. When after a certain incident all humanity ends up turned into stone, they manage to wake up in a world thousands of years later, with human civilization completely disappeared and with all humanity frozen in stone as they were. Now it is your obligation to rescue people and create a new world.
Demon Slayer: Kimetsu no Yaiba – Red District Arc
Editor's note: With only a few chapters and that arc broke it brutally.
Synopsis
We are in the Taisho era of Japan. Tanjiro, a young man who makes a living selling charcoal, finds out one day that his family has been killed by a demon. To make matters worse, his younger sister Nezuko, the only survivor of the massacre, has undergone a transformation into a demon. Shattered by events, Tanjiro decides to become a demon hunter so he can return his sister to normal and kill the demon that slaughtered his family.
Miss Kobayashi's Dragon Maid S
Synopsis
Miss Kobayashi is the average office worker with a boring life and living in a small apartment by herself. This was until she saved the life of a dragon named Tohru with the ability to transform into an adorable human girl. Tohru will go to any lengths to thank Kobayashi for saving her whether she wants to or not! Thus, the office worker's life becomes complicated by having a dragon roommate.
The World's Finest Assassin Gets Reincarnated in Another World as an Aristocrat
Editor's note: The anime with the most fucking long name of the year.
Synopsis
When a first-class assassin is reborn in another world, it turns out that he does so as the heir to a family of shadowy assassins. With his knowledge as an assassin from the modern world and his experience, plus his special magic and techniques from the new world, it seems that he will not have a hard time becoming the deadliest assassin in history!
Version is also available for Spain what if they like gossip they can come and take a look. Well, I already gave you the answers to the exam, in case you want to do it What do you think of the results? How much did they get on the test without cheating? Is it me or are the categories too far-fetched?
Fountain: Crunchyroll