Taking advantage of that according to the account of HBO Max Twitter, Dune It's in first place of what most viewed on the platform, To who FUNiAnime We bring you our review of it, to give you an idea of ​​why this new space adventure is breaking it.
This top 10 is 🔥🔥🔥 tell me what are you watching now 👀
# 1 Dune
# 2 Gossip Girl
# 3 Looney Tunes Cartoons
# 4 Christmas in 8 bits
# 5 Saved by the bell

– HBO Max Latin America. (@HBOMaxLA) December 1, 2021
There are few times in film history when the art meets show, and it is that many times the experiment of bringing both aspects together has failed. Same has been the case Dune, a story that tells the war of power to gain control of a planet called Arrakis, which, imbued with a substance that allows interstellar travel, creates around it a power struggle worse than that of any Latin American country.
After the success of the novel by Frank Herbert premiered in 1965, it was thought of making a film that was at the height of the space thriller proposed by the author. Alejandro Jodorowsky would try to raise the most ambitious project of the 20th century in cinema, gathering talents of the stature of Salvador Dali until Orson Welles or Pink floyd, but fate refused; gave us one blurred version made by David lynch, which even ended staining the prestigious career of this famed cult director.
stories inspired in the looks and characters of Dune like Star wars They ended up arriving earlier and stealing the audience's attention, even the anime has borrowed some concepts and the Dune franchise was like this infilmable project that only crazy would dare to touch. This is how, many years later, in 2016 it was announced that it would be tried one more time lift up the damn project.
The man behind this remake is Denis Villeneuve and behind it has a luxury cast: Timothée Chalamet, Oscar Isaac, Zendaya, Jason momoa, Javier Bardem, Josh brolin, Stellan skarsgard, Rebecca ferguson, between many more. This cast is betting that, at least, an expectation is generated for the audience to see all this constellation stars share the screen.
But, What is the final result of the film? Dune of 2021 is a film reminiscent of the Hollywood of yesteryear, of the great epics and great stages Like the ones of Laughter on Vacation OK no! Seriously speaking, it reminds us of movies like Lawrence of Arabia or Ben-Hur. The scale is absolutely overwhelming, not just in the actors it uses (who are fully committed to doing their best), but in the lush construction of the desert planet of Arrakis and the tragic history of House Atreides.
Dune joins the cinematography with the visual spectacle and the creation of a dazzling atmosphere. The Cinematographer Greig fraser who we previously saw in Rogue One and will soon see in The Batman, has created a film that is hypnotic in its spatial images and that they do not look for unreal or fanciful places, but rather natural ones, where it is even sought to make it appear that everything has been filmed with natural light; for example night scenes are dangerously low exposure to simulate how our eyes actually see in the dark. In the OST Hans zimmer gives us one of his best works (which is saying a lot), but in Dune the images and sounds live intertwined.
Denis Villeneuve really takes his time narrating the story and lets each moment of the film live, the film does not run to try to tell the anecdote, but rather lives through the sensory experience to enter his world. And yes, it must be said that this is just an introduction to the world of Dune and that this leads to a possible trilogy (the second installment has already been confirmed) in which it could be compared to a kind of Fellowship of the Ring, where the factors are being placed for the great second and third parts.
Dune can become somewhat complicated for an audience that just looking for fun (not to say hideously boring), but the artistic and filmic value is indisputable. It's hard to believe that a movie has been given the green light that doesn't live up to the standards sought by today's entertainment world, which is just looking for easy, visually stunning entertainment (yes, I'm talking to you. Furious) and concentrates 100% on create your world, your atmosphere, your time and your rhythm.
For all the improbable that Dune brings together, the movie ends up being something we rarely see, art meets entertainment, huge budget with an artistic talent behind in direction, photography, editing, special effects and acting that converge at the right time. Denis Villeneuve is already on the podium of the best directors ever and Dune as one of the Best Movies. Timothée Chalamet stand out again in a highly outstanding performance and is postulated as one of the best actors that will have his generation.
Dune is a immersive, bombastic, massive and imposing show and if you are someone who appreciates cinema, It is an experience that you should not stop enjoying in the largest screen there is.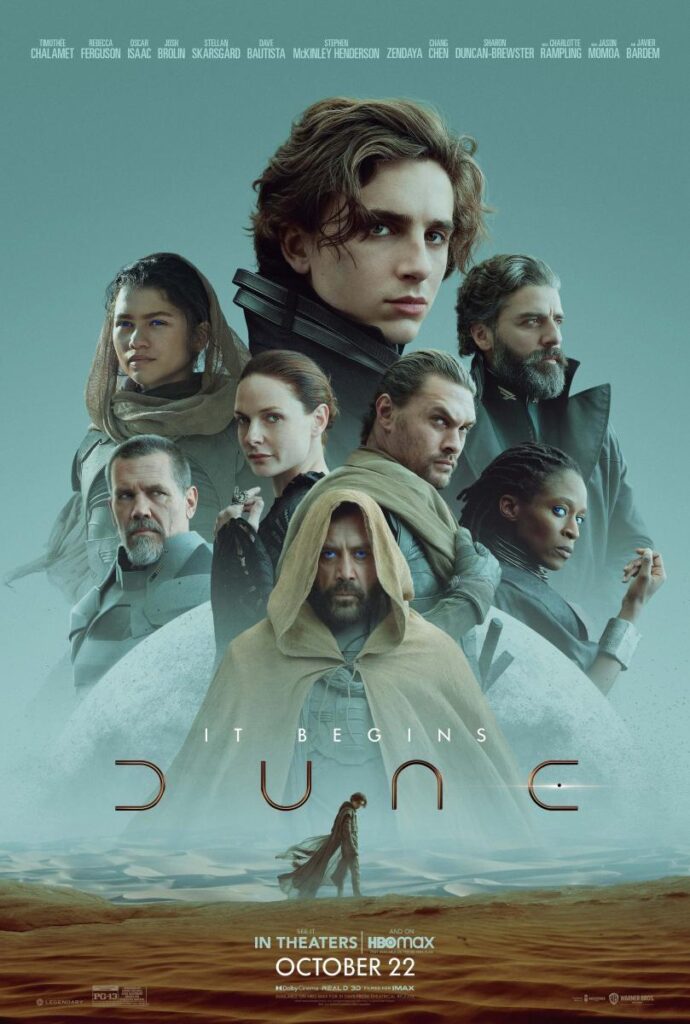 Editor's note: Timothée Chalamet fucking love you, make me 153712313582518 children.