Through his twitter account, Funimation finally confirmed his SimulDubs (simultaneous dubs) for this winter season, the announcement is full of surprises so we review them below.
How a Realist Hero Rebuilt the Kingdom (Season 2)
The second season of the realistic hero will also have his dubbing and will premiere next saturday january 29.
Synopsis
TFollowing the death of his grandfather, 19-year-old Kazuya Souma, an aspiring civil servant, is left alone with no one to call family. Out of the blue, he is transported to the Kingdom of Elfrieden, a sick little country in another world, to be a "hero". An ongoing war with the demon army has put the entire world in peril, and Kazuya was summoned to aid in the conflict as an offering from Elfrieden to his allies. Unhappy at being used as tribute, Kazuya decides to help the kingdom revive its failing economy, not through adventure or war, but through administrative reform. Suddenly declared king of Elfrieden and betrothed to the princess, "royal hero" Kazuya sets out to assemble a group of talented citizens to help him through his bureaucratic battles to get the kingdom back on its feet.
My Dress-up Darling
We will be able to listen to the beautiful Marin in our language from the next saturday january 29.
Synopsis
Traumatized by a childhood incident with a friend who opposed his love of traditional dolls, hopeful doll maker Wakana Gojou spends his days alone, finding solace in his high school's home study club room. To Wakana, people like the beautiful Marin Kitagawa, a modern girl who is practically always surrounded by friends, is like an alien from another world. But when the cheerful, never-shy Marin sees Wakana sewing one day after school, she bursts in with the goal of getting the club involved in her secret hobby: cosplay! Can Wakana's wounded heart handle this sexy alien's invasion?
Requiem of the Rose King
The dubbing of this anime will premiere next sunday january 30.
Synopsis
The crown of England has been hotly contested throughout history, and in the Middle Ages, a series of major civil wars became known as the "Wars of the Roses." Claiming the right to the throne, the Duke of York seeks to defeat King Henry VI and his heir to become king himself. On a dark day full of bad omens, the duke gains a son: Richard Plantagenet, the third of his name. Neither male nor female, since it has both sexes. Richard III is immediately rejected by his own mother, so hatred becomes the daily bread of his childhood, leading him to hate his own body and to be called a "demon" by others.
Richard grows concerned as he has visions of England's former enemy, Joan of Arc, who taunts him that she will bring ruin to everyone she will ever meet. Since then, Richard believes that he can avoid his fate if he helps his father become king. However, cursed by the low expectations of his mother and Juana, will Richard's actions end up sinking his family?
Tribe Nine
The dubbing of this series will arrive next monday january 31.
Synopsis
Haru Shirogane is a weak-minded person who is constantly bullied, while Taiga has traveled from across the sea in hopes of becoming the strongest man in the world. One night, the two meet Shun Kamiya, the strongest player in XB (Extreme Baseball), and leader of the Minato Tribe. When they meet, each of the tribes scattered across Neo-Tokyo is about to face a major threat. Under the orders of the King of Neo-Tokyo, "Houtenshin", the Chiyoda Try, led by the mysterious Ojiro Otori, has begun to take control of all the tribes in the country. His evil claws are about to reach the Minato Tribe…
Sabikui Bisco
The dubbing of this anime will come next monday january 31.
Synopsis
The story takes place in Japan after an "Oxidizing Wind" swept everything away. People live in fear of the rust that corrodes cities and life in general. A boy named Bisco Akaboshi from the despised "Mushroom Guardian" tribe embarks on a journey to obtain the "Rust Devourer" fungus, a miracle drug that purifies all rust, in order to save his dying master. During his journey, Bisco meets Miro Nekoyanagi, a handsome young doctor in Imihama, and together they search for a countermeasure against the rust consuming Miro's beloved older sister.
The Genius Prince's Guide to Raising a Nation Out of Debt
The dubbing of this beautiful anime will come next tuesday february 1.
Synopsis
It's not easy being a genius… Prince Wein is ready to commit treason. And who can blame him? Faced with the impossible task of ruling his pathetic little kingdom, this poor boy just can't catch a breath! But with his brilliant idea of ​​auctioning off his country, this lazy prince should be able to retire once and for all. Or so was the plan…until his treacherous schemes lead to disastrous consequences, namely accidental victories and the favor of his people!
Arifureta (2nd season)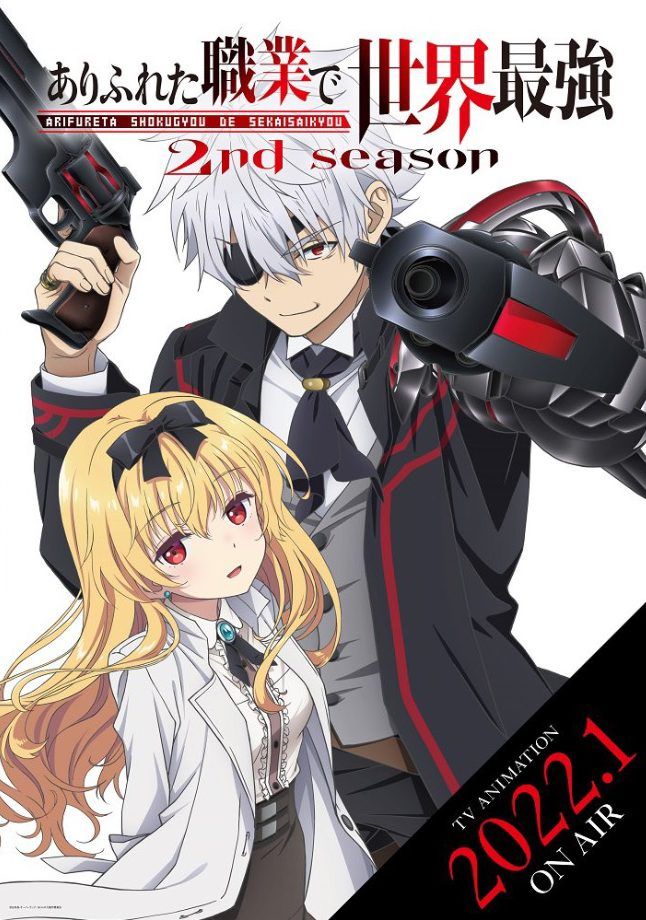 Dubbing will come next Thursday February 3.
Synopsis
High school student Hajime Nagumo is bullied by his classmates for dating the school idol, Kaori. When he and the rest of the class are transported to a fantasy world, all of his classmates are given powerful magical abilities, while Hajime only gains basic alchemy magic to transmute solid materials, a common occurrence for blacksmiths. During a dungeon raid, he is betrayed by one of his teammates and thrown to the bottom of the dungeon. Hajime survives the fall and starts creating weapons to escape the dungeon and become stronger. On his way, he meets the vampire Yue, and is later joined by the bunny-eared girl Shea, the perverted dragon Tio, and others.
Vanitas no Carte (2nd season)
The second season will also have its dubbing, it will be released next friday february 4.
Synopsis
Once upon a time there lived a vampire known as Vanitas, hated by his own kind for being born under a full blue moon, as most rise on the night of a crimson one. Fearful and alone, he created the "Book of Vanitas", a cursed grimoire that would one day take revenge on all vampires; at least that's the story.
Vanitas no Carte follows Noé, a young man who travels aboard a blimp in 19th century Paris with one goal in mind: to find the Book of Vanitas. A sudden vampire attack leads him to meet the enigmatic Vanitas, a doctor who specializes in vampires and, to Noah's surprise, a completely ordinary human. The mysterious doctor has inherited both the name and the infamous text from the Vanitas of legend, using the grimoire to heal his patients. But behind his kind demeanor lurks something a little more sinister…