We continue with more news for the fandom of shaman-king in Latin America. And it is that today Netflix has scheduled the arrival of a new batch of episodes of the latest anime adaptation of the work starring Yoh Asakura (internationally titled Shaman King) to their catalogue, along with its well-received Latin Spanish dubbing. This new batch of episodes would be landing from the day May 26.
the sleeve of shaman-king was written and illustrated by Hiroyuki Takei. your post began in 1998 in the Shūkan Shōnen Jump magazine by Shueisha publishing house, but was canceled in 2004. In March 2008, a reissue titled Shaman King Kang Zeng Bangwhich includes 300 chapters compiled in 27 volumes, and which ended in April 2009, giving the series a true ending.
The recent anime adaptation of shaman-king premiered in 2021 with the aim of faithfully adapting the 35 volumes of the manga written by Hiroyuki Takei. The series was produced by the animation studio Bridge. Shaman King reboot is available at Netflix with the options of the original audio with subtitles and with its dubbing into Latin Spanish. which was recorded in new-art of Mexico, led by Rene Garciawhere continuity was given to the main voices of the dubbing of the classic version.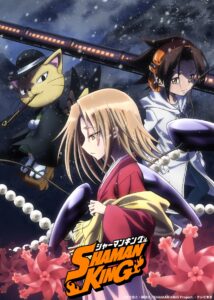 Shaman King Synopsis:
A battle is about to begin in Tokyo: the Battle of Shamans, a competition held every five hundred years where shamans (those who can command spirits) confront each other. The one who is victorious in this tournament will be recognized as the "Shaman King" and will be able to contact and control the Great Spirit, allowing him to reform the world to his will through his immense power. During a night walk, Manta Oyamada meets his companion, the easygoing Yoh Asakura, who invites him to stargaze with some other friends who, to Manta's horror, turn out to be the ghosts of the local graveyard. However, it is also surprising that Manta is able to see them.
© 武井宏之・講談社/ SHAMAN KING Project.・テレビ東京
Source: Netflix