Anime Onegai has continued to strengthen its alliances by distributing more of its titles for other entertainment media and one of the most recent was with the renowned free streaming platform Pluto TV.
Their alliance arose since September of this year with the arrival of some recognized animes under the distribution of the NyamiG kitten to the free platform. Today more anime has been added to its catalog. A total of 11 titles are now available on On Demand.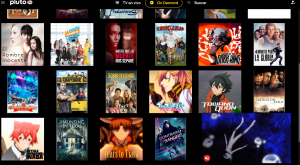 The titles in question are distributed in Latin America by Anime Onegai (Remow), who were also responsible for creating the Latin dubbing of the 11 titles currently added to the Pluto TV service, which were released by the NyamiG cat platform between 2021 and 2022.
Since September 14, a first batch of titles was launched into the Pluto TV catalogue:
Tari Tari
Break Blade
Special A
Needless
And a new batch of anime has just been released to the aforementioned streaming service:
Cuticle Detective Inaba
Fist of The North Star: Legend of The Black King
Devilman – The Birth and Demonic Bird (OVAS)
Mazinkaiser
Mazinkaiser SKL
Getter Robo Armageddon
Tears to Tiara
Towa no Quon
Uta No Prince-sama
Santa Company (OVA)
They are currently being broadcast simultaneously in the live section of the aforementioned free platform, divided into the channels. Anime as well as within Anime Action, depending on the category to which the shift series belongs. We hope that this alliance lasts even longer with more news in the future.
Fountain: Anime Onegai