Anime Limited has revealed their latest newswire post, which features some interesting announcements for the United Kingdom and Ireland anime fans.
---
As a quick reminder, Gundam Build Fighters Part 1 is currently available as an early bird since Monday 31st July and will continue to be on offer until Thursday 10th August at £39.99 (£35.99 for Anime Unlimited members). You can order the title over on their webstore here.
In addition due to stock issues, retailers will have to wait until September for many of the newer releases, but the release dates related to Anime Limited's webstore will continue as planned.
---
This month's early bird features two surprise announcements and two home video updates for their existing licenses scheduled for release later this year!
Release Date: 30th October 2023
The forth and final film in the Rebuild of Evangelion tetralogy series was recently announced for a UK theatrical release last May, but today the distributor has revealed it's also heading to home video with multiple editions available, including a deluxe edition 4K Ultra HD & Blu-ray combo pack package.
There will be four editions available:
Pre-orders will begin on Thursday 3rd August at 5pm UK time.
The Deluxe Edition includes a rigid box with a Steelbook case (housing both the 4K Ultra HD and Blu-ray discs), 28-page booklet, 5 art cards and a poster. The 4K Ultra HD disc will be presented in 2160p Ultra High Definition.
It's also worth noting the Japanese release was released in Standard Dynamic Range, and while the US release has listed HDR on its packaging and on the Rightstuf listing, it is possible that its a copy/paste typo and the final product is SDR.
The Collector's Edition is presented as a Steelbook case, using the same artwork featured in the deluxe edition.
All of the Blu-ray editions will also include a second disc that contains on-disc features including the 10 minute EVANGELION:3.0(-46h) anime short, and EVANGELION:3.0(-120min.) digital comic.
Audio options for all editions include Japanese with English subtitles and the Dubbing Brothers English dub by Studio Khara and Amazon Prime.
Evangelion: 3.0+1.11 Thrice Upon a Time (シン・エヴァンゲリオン劇場版𝄇) is a 2021 theatrical anime film continuing from the events of 2012's Evangelion: 3.33 You Can (Not) Redo. The film was directed & written by Hideaki Anno (Nadia: The Secret of Blue Water), but also directed by Kazuya Tsurumaki (Gunbuster 2: Diebuster), Katsuichi Nakayama (Full Metal Panic! Invisible Victory) and Mahiro Maeda (Gankutsuou: The Count of Monte Cristo), and produced by Studio Khara (The Dragon Dentist, Kaiju No. 8), with staff credits including character designers Yoshiyuki Sadamoto (.hack franchise) and Takeshi Honda (Millennium Actress), and music composed by Shiro Sagisu (Bleach).
"From legendary director Hideaki Anno, EVANGELION:3.0+1.11 THRICE UPON A TIME is the fourth and final instalment of the REBUILD OF EVANGELION films, bringing an epic conclusion to the story of Shinji and his fellow Eva pilots, with the stunning visuals and thought-provoking storytelling that has made EVANGELION a global pop culture phenomenon.

Misato and her anti-NERV group Wille arrive at Paris, a city now red from core-ization. Crew from the flagship Wunder land on a containment tower. They only have 720 seconds to restore the city. When a horde of NERV Evas appear, Mari's improved Eva Unit 8 must intercept. Meanwhile, Shinji, Asuka, and Rei (Provisional Name) wander about Japan."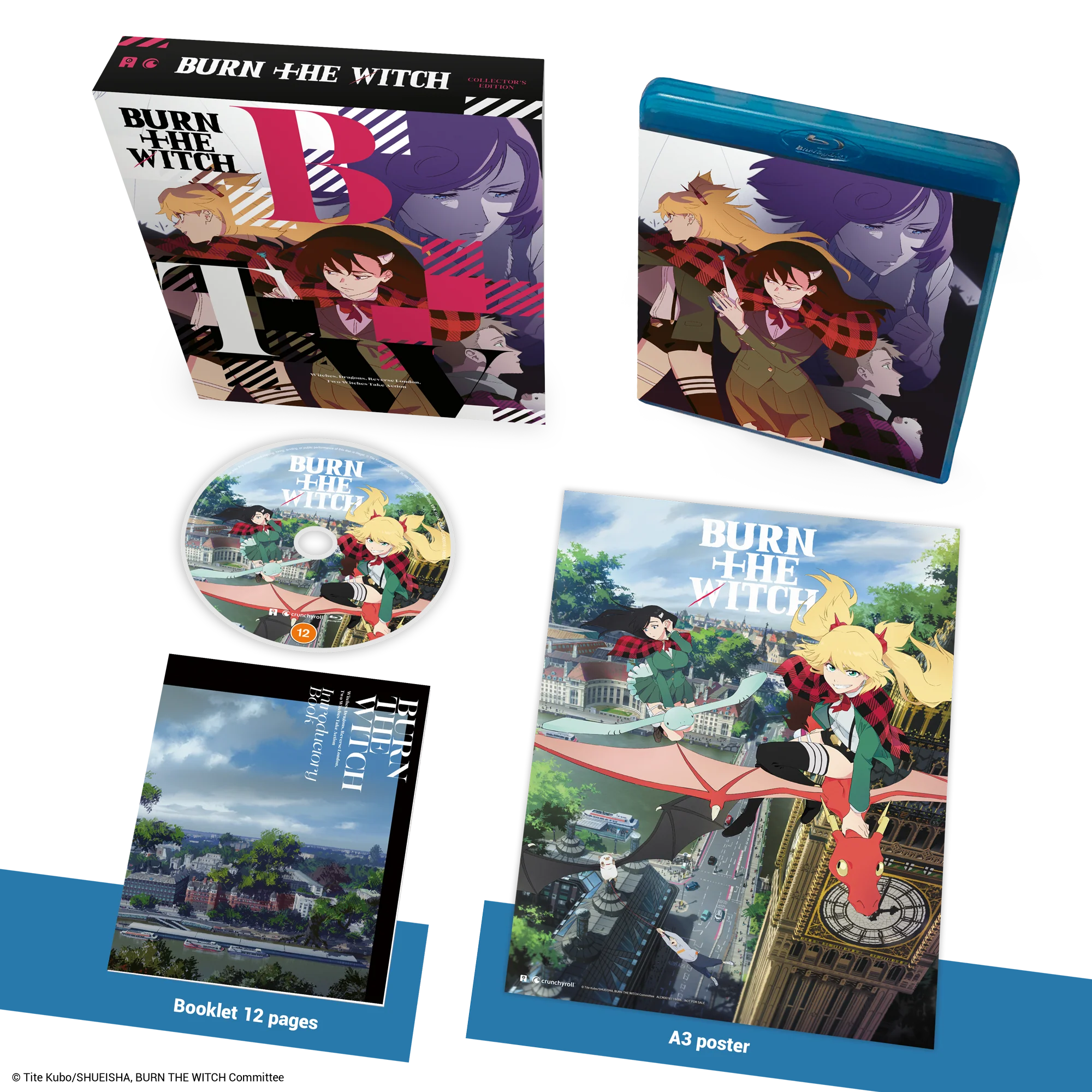 Release Date: 25th September 2023
With the recent news that Bleach is returning to the UK, Anime Limited have also revealed plans to release Burn the Witch for the United Kingdom and Ireland, presented as a collector's edition Blu-ray package.
Pre-orders will begin for the Collector's Edition Blu-ray (SRP: £39.99, EB: £24.99, EB w/discount: £22.49) on Thursday 10th August.
The set includes a rigid box with a Blu-ray case, 12-page booklet, and an A3 Poster. Audio options include Japanese with English subtitles and the STUDIOPOLIS, Inc. English dub by Crunchyroll.
Both the original theatrical version and the three-part OVA version (which was used for the Crunchyroll stream) are included with this release.
Burn the Witch is a 2020 theatrical anime film based on the manga series written by Tite Kubo. The anime was directed by Tatsuro Kawano, and produced by Studio Colorido (Penguin Highway), with staff credits including writer Chika Suzumura (The Legend of Heroes: Trails of Cold Steel Northern War), character designer Natsuki Yamada, and music composed by Keiji Inai (Is It Wrong to Try to Pick Up Girls in a Dungeon?).
"In this world, there is a "FRONT" side and a "REVERSE" side.

Historically 72% of all the deaths in London are related to dragons, fantastical beings invisible to the majority of the people. While unknown to most, some people have been standing up to these dragons.

Only inhabitants of Reverse London who live in the hidden "reverse" side of London can see the dragons. Even then, only a selected few become qualified enough as witches or wizards to make direct contact with them.

The protagonists of the story are witch duo Noel Niihashi and Ninny Spangcole. They are protection agents for Wing Bind (WB), an organization for dragon conservation and management. Their mission is to protect and manage the dragons within London on behalf of the people."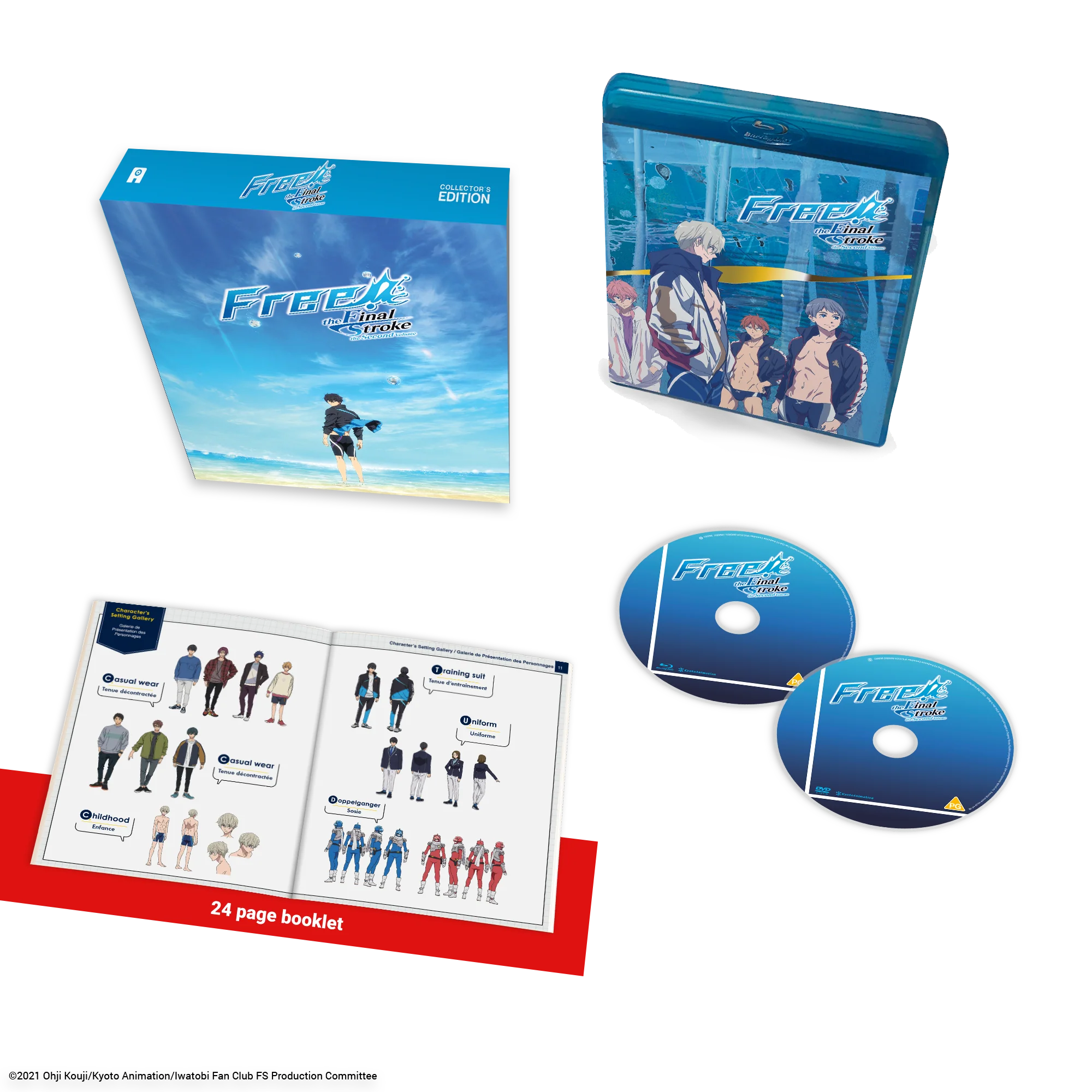 Release Date: 18th September 2023
The second film in this latest instalment for the Free! franchise is now making its UK home video debut and much like the first film it will also be presented as a collector's edition package.
Pre-orders will begin for the Collector's Edition Blu-ray & DVD combo pack (SRP: £39.99, EB: £24.99, EB w/discount: £22.49) on Thursday 24th August.
The set includes a rigid box with a Blu-ray case (housing the Blu-ray & DVD discs) and a 24-page booklet. No English dub has been produced for the films yet so the only Audio options available are Japanese with English subtitles.
Free! The Final Stroke is a 2021 duology that wraps up the Free! franchise produced by studio Kyoto Animation (Miss Kobayashi's Dragon Maid). The films were directed and written by Eisaku Kawanami (Free! franchise) with character designs by Futoshi Nishiya (Liz and the Blue Bird) and music composed by Tatsuya Katō (Dr. Stone).
"After his first appearance on the competitive world stage, Haruka is held captive by the swimming of the undisputed champion, Albert, and feels like he's lost his way. Adrift in this state, Haruka's swimming and what the water means to him are called into question, and he begins to sink to the bottom of some murky water as he struggles alone.

Pushed on by a restless urge in his heart, Haruka puts himself through a rigorous and intensive training regimen, relentlessly devoting himself to practice. In his heart, Haruka knows that he's pushing himself beyond his limits both physically and mentally, while his friends can do nothing but watch over and have faith in him."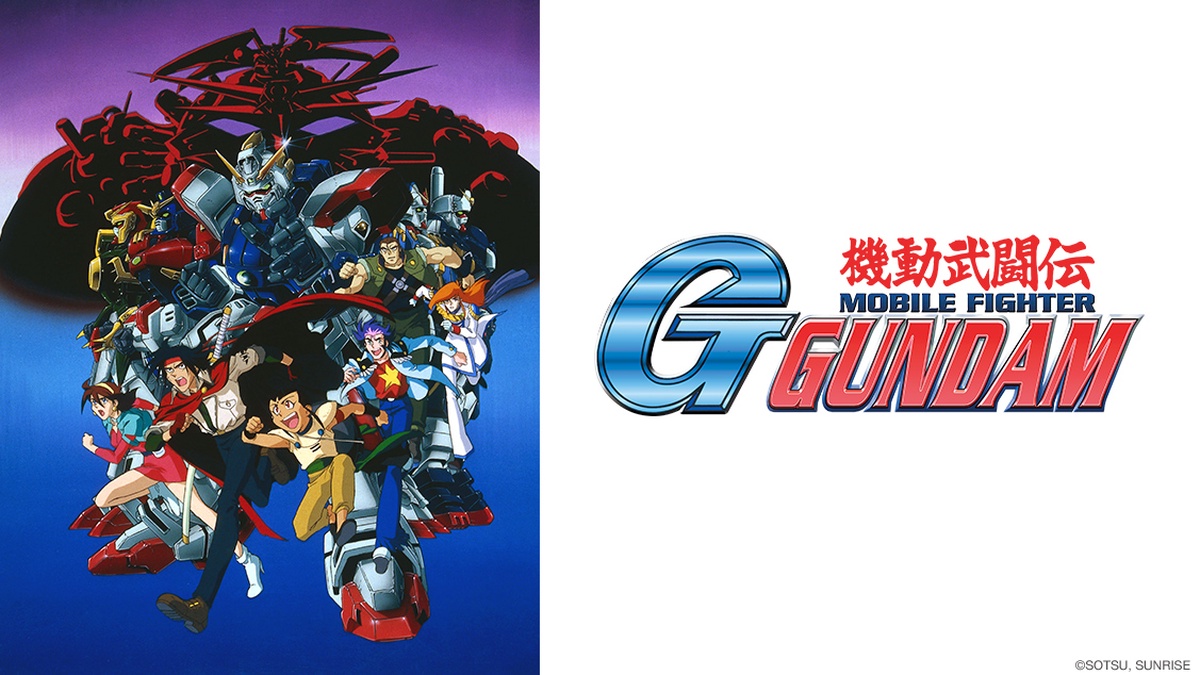 Mobile Fighter G Gundam Part 1
Release Date: 16th October 2023
With the surprise return of more Gundam announced last May, Anime Limited will also be releasing Mobile Fighter G Gundam for the first time in the United Kingdom and Ireland, and will be consistent with the rest of the franchise under the Gundam Collection banner and collector's edition packaging.
Pre-orders will begin for the Collector's Edition Blu-ray (SRP: £69.99, EB: £39.99, EB w/discount: £35.99) on Thursday 31st August.
Details for the release are still in its working stages (and there's no packaging artwork revealed yet) but it is expected to include a rigid box with a Blu-ray case (with Part 2 featuring a physical item to match the other Gundam instalments).
Part 1 of this release is expected to cover Episodes 1-24 of the series, and audio options include Japanese with English subtitles and the Ocean Group English dub by Bandai Entertainment.
Mobile Fighter G Gundam (機動武闘伝Gガンダム) is a 1994 television anime series directed by Yasuhiro Imagawa (Mazinger Edition Z: The Impact!) and produced by studio Sunrise (now known as Bandai Namco Filmworks). Staff credits also include writer Fuyunori Gobu (The King of Braves: GaoGaiGar), character designer Hiroshi Osaka (Mobile Suit Victory Gundam), and music composed by Kōhei Tanaka (Sakura Wars franchise).
"It is time for the "Gundam Fight" tournament! Each country sends a Gundam to Earth for this prestigious tournament in the hopes of winning power and glory for their homeland! But this time, there's an unseen evil lurking behind the scene. Domon Kasshu, Neo Japan's reluctant Fighter, is determined to uncover this evil and clear his family name! The fight to the top begins now!"
---
That concludes all of the home video early bird offers for this month's slate. Also available for this month's early bird is the vinyl original soundtrack for Re:ZERO -Starting Life in Another World- Season 1 which will be available to pre-order starting Thursday 17th August for SRP £39.99.
Source: Anime Limited Newswire